The Cumbria BogLIFE Project was a five-year (2014 to 2019) Natural England project, aimed at restoring three lowland raised bog sites within Cumbria.
Overview
Lowland raised bog is one of Western Europe's rarest and most threatened habitats. Around 94% of this unique habitat has been destroyed or damaged in the UK, and 45% of what remains within England lies within Cumbria.
Despite much of this being protected at a European level, a significant proportion needs restoration to bring it back to its natural state. Centuries of drainage, peat-cutting, tree planting and agricultural practices have left the bogs in a condition that is unsuitable for the specialist bog plants and animals that depend on them. Bogs in an unhealthy condition also end up releasing carbon dioxide to the atmosphere as opposed to capturing and storing it.
The Cumbria BogLIFE project was a large-scale restoration endeavour, using specialist contractors and innovative techniques to bring the bogs back to their natural state.
The project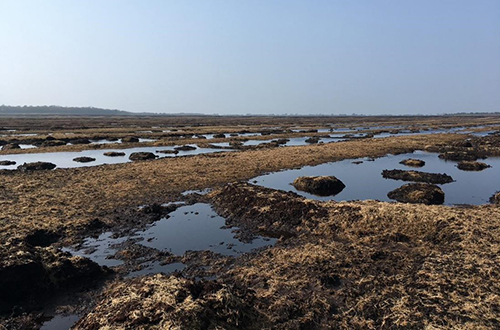 Cumbria BogLIFE was a five-year Natural England project aimed at restoring three lowland raised bog sites within Cumbria.
These are:
Bolton Fell Moss to the north-east of Carlisle
Roudsea Woods and Mosses National Nature Reserve (NNR) in south Cumbria, and
Wedholme Flow – one of four raised bogs within the South Solway Mosses NNR to the north-west of Carlisle.

The project, which was 50% match-funded by the EU LIFE+ Programme, aimed to directly restore 507 hectares (ha) of degraded raised bog. As the sites are part of wider areas of bog, this will result in improvements to 751 ha of habitat.
Restoration work at the three peatland sites began in 2015 with the aim of modifying hydrology and vegetation to conditions which promote peat formation.
Efforts to date have included the removal of invasive species, woodland and scrub, rewetting and the re-introduction of bog species such as sphagnum mosses and grasses.
Re-establishing vegetation on the peat required the management of water levels, surface profiling and the spread of a 'living carpet' of mosses and grasses. This technique appears to have been successful and has withstood severe storm events and prolonged droughts.
By the end of the project in 2019, at Bolton Fell Moss for example, the cover of bare peat was reduced from 80% in 2016 to about 50% by 2018 and the cover of peat-forming Sphagnum species had increased from 0% in 2016 to 6% in 2018. The long-term aim is to achieve a fully restored ecosystem at this site by 2039.
Environmental and societal benefits
Cumbria BogLIFE aimed to celebrate this historical connection and the future role of bogs within their local communities – both as an important habitat and as a place for people to visit and enjoy.
Restored bogs are more efficient at storing carbon from the atmosphere, mitigating against climate change for at least the next century. In addition, Peat bogs are home to a complex mix of rare and specialist plants and animals. The re-establishment of bog vegetation and raised water levels across these sites will simultaneously enhance carbon storage while increasing biodiversity.
The project also worked with the communities living near the sites, to inform and inspire them about the bogs and the restoration works being carried out.
With their input, a programme of events and activities were developed to meet their interests – from schools and local groups to individuals. The programme included guided walks, illustrated talks, the development of on-site information boards and artworks that depict what is considered special and interesting about the bogs.
These areas also provide a unique and historical environmental record integral to local culture. Maintaining the connection between people and the landscape, for example, by installing walkways and information about the wildlife, enhances human well-being.
Project partners
Natural England
EU LIFE
Durham University 
Further information
https://www.gov.uk/government/publications/cumbrian-bogs-life-project
The Inter-Agency Climate Change Group
This project is one of a series of projects which showcase some of the best examples of Nature-based Solutions from across the four countries of the UK. The information has been compiled by the UK Inter-Agency Climate Change Group (IACCG), and is being hosted on the JNCC website on behalf of the group.