The Greener Grangetown project is a partnership project designed to transform the quality of the environment, streetscape and improve cycling and pedestrian infrastructure across a Cardiff city-centre neighbourhood.
This webpage is also available in Welsh / Mae'r dudalen we hon hefyd ar gael yn Gymraeg
Overview
Greener Grangetown is a sustainable drainage system (SuDS) project designed to better manage rainwater and make this diverse neighbourhood in the city of Cardiff a cleaner, greener place to live.
Delivered in partnership by Natural Resources Wales, City of Cardiff Council and Dŵr Cymru Welsh Water, the project was driven by the need to reduce volumes of rainwater entering the capital's sewerage system to provide resilience against the impacts of climate change and urbanisation and to protect its long-term resilience and capacity.
It also had the ambition of improving the surroundings and access to urban green spaces for its residents and commuters.
The project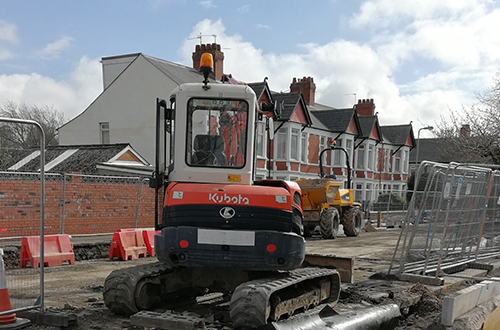 The Greener Grangetown project site covers 12 hectares. This includes twelve Victorian streets, with approximately 1,150 residents and 500 properties.
The concept developed from the original aim of removing surface water that entered the combined sewer network.
Previously, rainwater run-off was pumped 8 km for treatment before being discharged into the sea.
In a UK first, and working with the very latest in innovative civil engineering and design, the project implemented sustainable drainage techniques to catch, clean and divert rainwater directly into the nearby river.
This was achieved through the design and installation of over 100 raingardens containing native trees and plants on the streets of Grangetown. These are planted areas that mimic the natural environment, providing a more sustainable method for catching and cleaning rainwater. When it rains, water flows into the rain gardens where hardy plants and trees soak it up and filter it, capturing and breaking down some pollutants along the way.
During heavy storms, water that cannot be absorbed by soil and vegetation travels through pipes at the base of each rain garden and is conveyed to the nearby River Taff.
This pioneering approach in partnership working and civil engineering has resulted in more than 40,000 m³ of rainwater each year diverted from the city's main sewer network.
This was the first time in the UK that these techniques were retrofitted into an urban environment at this scale.
Environmental and societal benefits
Greener Grangetown is a leading example of blending the implementation of innovative actions that protect, sustainably manage, and restore natural resources and enhancing community life.
 The aim from the very beginning was to engage the diverse local community in the design and construction of the project to ensure their views and ideas were reflected throughout. This involved school visits, indoor and outdoor community events where visualisations and drawings all helped to convey the ambitions that would create a healthy and resilient local environment that supported economic and social prosperity for generations to come. Community-led planting events were also run.
The projects community and environmental benefits have been maximised throughout. Streetscapes have been transformed by the planting of over 120 trees and 19 different species of native plants in the area.
Greener Grangetown's public realm improvements include a new 555 m 'bicycle street' along the River Taff Embankment, and the introduction of 1,700 m2 of new green space. The riverside footpath was also widened and resurfaced.
The installation of new crossings, attractive planting that moves parking away from junctions, and a central textured strip in the road that prompts drivers to take extra care have also transformed the street. A better-quality street environment for users and residents has been created, reducing motorists' speeds and improving the visibility of cyclists and pedestrians. The result is a residential street where bicycles take priority.
The scheme is also helping to enhance local biodiversity and wildlife, deliver water quality improvements in the local river and improvements to air quality and noise pollution.
Early indications show energy used by the Marl pumping station, which receives flows from Grangetown, has significantly reduced compared with the same period in 2016 (prior to construction). This comes despite there being more than double the rainfall. This improvement demonstrates efficiency in reduced operational costs, environmental benefit in minimising associated carbon emissions, and futureproofing of the sewage network by freeing up capacity to deal with the effects of climate change.
It is an award-winning example of how organisations can work together to create so many positive outcomes, and we hope this scheme inspires many more projects.
Project partners
City of Cardiff Council
Dŵr Cymru Welsh Water
Natural Resources Wales
Further information
www.greenergrangetown.wordpress.com
The Inter-Agency Climate Change Group
This project is one of a series of projects which showcase some of the best examples of Nature-based Solutions from across the four countries of the UK. The information has been compiled by the UK Inter-Agency Climate Change Group (IACCG), and is being hosted on the JNCC website on behalf of the group.