Inner Bank MPA
Status: Marine Conservation Zone (MCZ)
The Inner Bank MCZ lies 10 km south of Dungeness off the south coast of England, across the 12 nm territorial sea limit. Therefore, advice for this MPA is jointly delivered with Natural England.
Site
The Inner Bank MCZ is located off the south coast of England in the English Channel region. The closest point lies approximately 10 km south of Dungeness. 
Most of the site falls in inshore territorial waters. However, the southern corner of the site falls in offshore waters beyond 12 nm from the coast. As the site lies across the 12 nm territorial sea limit, advice for this MPA is jointly delivered with Natural England.
The site covers an area of 199 km2, protecting a range of broad-scale habitats; Subtidal coarse sediment, Subtidal sand and Subtidal mixed sediments. Protection afforded to these designated habitats will allow a rich variety of colonising animal species (e.g. different types of polychaete worms, bivalve molluscs, anemones, starfish, urchins, sea firs, anemones and sea mats) to thrive.
More detailed site information can be found in the Summary section below.
Map displaying the Inner Bank MPA boundary and associated protected feature data. Visit JNCC's MPA Mapper to further view and explore data for this MPA.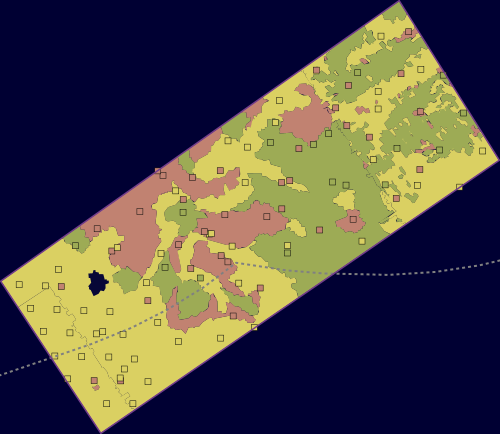 Legislation
Legislation behind the designation: Marine and Coastal Access Act (2009)
Protected Features
Specific information on the conservation objectives related to this site is provided in the Conservation Advice section.
The acquisition of new data may result in updates to our knowledge on feature presence and extent within this site. The most up-to-date information is reflected on the map on this page and in JNCC's MPA mapper and the evidence underpinning this can be viewed in the Evidence section.
Site Timeline
The diagram below is a summary of the key milestones involved in the selection and designation of the Inner Bank MCZ. More detail can be found within the Relevant Documentation section and in the post-consultation advice. 
September 2011
Regional Projects recommended a total of 127 rMCZs to Defra and the statutory nature conservation bodies (SNCBs).
June 2018 – July 2018
Inner Bank MCZ included in formal public consultation on Tranche Three MCZs.
May 2019
Tranche three designations announced – Inner Bank MCZ designated.
Relevant Documentation
The documents referred to below and any other historical documents relating to Inner Bank MCZ were produced during the selection and designation process and therefore may be out of date. This Site Information Centre is the most up-to-date source of information for this MPA, and will reflect any additional information gathered since these documents were produced. Further information about the Marine Conservation Zone site selection process and historic MCZ advice is available on JNCC's MCZ webpage.
Inner MCZ Designation Order – the official description of the site designation under the Marine and Coastal Access Act 2009. The Designation Order includes boundary co-ordinates, Conservation Objectives and a list of the designated features. More information on the Designation Order, including a designation map and factsheet is available on Defra's website.
Natural England and JNCC's joint conservation advice for this site is available in the Conservation Advice section.
Summary
Last updated: July 2020
Information for this site summary was adapted from JNCC's scientific advice to Defra on Inner Bank MCZ and incorporates any further information gathered since this advice was produced. Please refer to the Relevant Documentation section for further details and information sources.
Site overview
The Inner Bank MCZ is located in the English Channel region, approximately 10 km south of Dungeness, extending south-west across the 12 nm territorial seas limit to waters south of Hastings. The site is 199 km2 in area, with depths ranging from approximately 10–50 m. This MCZ protects the broad-scale habitats Subtidal coarse sediment, Subtidal mixed sediments and Subtidal sand, which provide habitats to a variety of species including polychaete worms, bivalve molluscs (including anemones, starfish, urchins, sea firs, anemones and sea mats).
Further detail on the evidence for this MCZ can be found in the Evidence section.
Site location: Co-ordinates for this MCZ can be found in the Designation Order listed in the Relevant Documentation section.
Site area: 199 km2.
Site depth range: 10.1–50 m. 
Charting Progress 2 Biogeographic Region: Region 3 – English Channel Region.
Site boundary description: The site boundary is comprised of four geodesic lines forming a simple rectangle cutting through the territorial sea limit in the southern corner, in line with the guidance provided by the MCZ project Ecological Network Guidance (ENG). The boundary of the Inner Bank MCZ has not changed since it was recommended by the Finding Sanctuary Regional MCZ Project in 2011.
Evidence
Last updated: December 2020
Site-specific data
There are a range of data that underpin this MCZ. The full overview of these data used to support site identification along with information on confidence in feature presence and extent is available in JNCC's Tranche Three MCZ pre-consultation and post-consultation scientific advice for offshore Marine Conservation Zones proposed for designation in 2019. JNCC will be adding relevant survey data for this MPA to its MPA mapper in due course.
Some of the data for this MCZ have been collected through JNCC-funded or collaborative surveys and some through other means. Data from these surveys provide direct evidence confirming the presence of the protected features within the site.
Survey and data gathering
Cefas/Natural England site verification survey of Inner Bank MCZ (2014) – A ground-truth survey of Inner Bank was carried out in January 2014 on the RV Cefas Endeavour cruise CEND0114. Ground truth samples were collected from 73 stations. A benthic grab was deployed successfully at 67 stations to collect sediments and infauna samples.  An underwater camera system was deployed successfully at 72 stations to collect video and still images of the seabed.
Data analysis reports
Inner Bank rMCZ Post-survey Site Report (2015) – Cefas undertook analysis of acoustic MBES data collected in 2006–2007 as part of UK's Civil Hydrography Programme and ground-truthing from the Cefas CEND0114 dedicated site survey. These data were used to produce an updated habitat map and inform the presence of broadscale habitats and allow estimates to be made of their spatial extent within the site.
Knowledge gaps
If you are aware of any additional data not listed here or scientific papers relevant to this site, please contact us.
Conservation Advice
Last updated: July 2020
The overarching conservation objectives for the site is for its designated feature either to remain in or reach favourable condition. The ability of a designated feature to remain in or reach favourable condition can be affected by its sensitivity to pressures associated with activities taking place within or in close proximity to a protected site.
Formal conservation advice is not currently available for this MPA and will be added in due course. JNCC will work alongside Natural England to develop a joint conservation advice package for this site.
In the interim, please see JNCC's Tranche 3 MCZ post-consultation advice for more detail.
Further information on Natural England's conservation advice for Marine Protected Areas can be found on the Natural England website.
Activities and Management
Last updated: July 2020
This site forms part of the UK's contribution to the OSPAR Commission's network of MPAs. As the UK is a contracting party to the OSPAR Commission, JNCC is committed to ensuring that the OSPAR MPA network is well-managed.
JNCC considers well-managed to mean the timely progress of an MPA around the 'MPA management cycle'. This involves:
The documentation of appropriate management information – conservation objectives, advice on activities capable of affecting the protected features of a site, and spatial information on the presence and extent of the protected features of a site.
The implementation of management measures – management actions considered necessary to achieve the conservation objectives of a site.
Site condition monitoring programmes – collecting the information necessary to determine progress towards a site's conservation objectives.
Assessment of progress towards conservation objectives – using available information to infer whether or not a site is moving towards or has achieved its conservation objectives.
Monitoring
Last updated: July 2020
For MPAs, data and evidence collected from monitoring activities will aim to:
Enable assessment of condition of the features within sites;
Enable assessment of the degree to which management measures are effective in achieving the conservation objectives for the protected features;
Support the identification of priorities for future protection and/or management; and
Enable Government to fulfil its national and international assessment and reporting commitments in relation to MPAs and help identify where further action may be required.
Information on monitoring of this MPA will be provided when it becomes available.
Assessment
Last updated: July 2020
Assessments of the condition of designated features in offshore MPAs are required to report against our legal obligations. Ideally these assessments should be based on observed data, and then measured against targets for pre-defined indicators. However, for MPAs in offshore waters we do not always have the appropriate information to be able to do so. This is particularly true for seabed habitats, which are the main type of feature designated for protection in offshore MPAs.
To address these challenges, JNCC has been an active partner in the development of new approaches and tools for the assessment of habitats and species for a variety of national and international status reports.
Conservation Assessment Reports
Under Section 124 of the UK Marine & Coastal Access Act (2009), JNCC is required to report to Ministers every six years on the degree to which the conservation objectives of the protected features of Marine Conservation Zones (MCZs) have been achieved. Every six years from 2012, the Marine Act requires a report setting out how MCZs have performed against their conservation objectives, as well as the effectiveness of the network as a whole.
To date, three reports have been published, each setting out progress being made in implementing a Marine Protected Area network, covering the following areas:
Outputs of assessments that feed into Marine Act reporting also feed into reporting under other obligations.
UK State of the Seas Reports & UK Marine Strategy Part 1
Charting Progress 2 (CP2) published in 2010, is a comprehensive report on the state of the UK seas. It was published by the UK Marine Monitoring and Assessment Strategy (UKMMAS) community which has over 40 member organisations. The report was based on a robust, peer-reviewed evidence base and describes progress made since the publication of Charting Progress in 2005. It provides key findings from UK marine research and monitoring for use by policy makers and others, as we move towards the UK vision of clean, healthy, safe, productive and biologically diverse oceans and seas. The results from CP2 were incorporated into the UK Marine Strategy Part 1: UK Initial Assessment and Good Environmental Status published in 2012 under the UK Marine Strategy Regulations (2010). The UK Marine Strategy Part 1 (2012) also set out the UK's definition for Good Environmental Status, which could be achieved by meeting a series of environmental targets. JNCC worked with other organisations in the UKMMAS community to develop a series of indicators that were used to assess progress against each of the targets and to report on progress made since 2012. The results of these assessments have been published in the UK Marine Strategy Part 1: UK Updated Assessment and Good Environmental Status in 2019. Detailed evidence used to make these assessments is available via the Marine Online Assessment Tool (MOAT). It also sets out proposals for updated high-level objectives, targets and operational targets to be used for 2018 to 2024, which build on those set in 2012.
It is worth noting the two other parts of the UK Marine Strategy: UK Marine Strategy Part Two: marine monitoring programmes, published in 2014 and UK Marine Strategy Part Three: programme of measures published in 2015. Updates to these will be made in 2020 and 2021 respectively.
OSPAR Quality Status Reports
Many of the assessments in the updated UK Marine Strategy Part 1 2019 were developed and produced in collaboration with other contracting Parties of the OSPAR Convention for the Protection of the North East Atlantic. In 2017 OSPAR published its Intermediate Assessment (IA2017). The IA 2017 further develops OSPAR's understanding of the marine environment of the North-East Atlantic and its current status. It demonstrates OSPAR's progress towards realising its vision of a clean, healthy and biologically diverse North-East Atlantic, used sustainably. IA2017 follows on from OSPAR's previous holistic assessment, the OSPAR Quality Status Report in 2010 (QSR2010) and in 2000 (QSR2000).
Development and tools
JNCC continues to develop and pilot tools for the assessment of marine habitats and species in offshore waters to improve the quality and transparency of our offshore MPA assessments, and contribute to the monitoring of marine biodiversity in UK waters. These tools cover methods for producing interim assessments of site features and their responses to pressures, as well as developing more robust indicators for determining condition of the features.
Image Gallery