Integrating Tools for Air Pollution Assessment (ITAPA)
Welcome to the project page for ITAPA. Learn more about the UK's needs for a more integrated process for producing air pollution risk assessments, the Dutch Integrated Approach to Nitrogen, and how JNCC is helping the Inter-Agency Air Pollution Group seek solutions through an integrated risk assessment tool.
This webpage gives a brief overview of the proposed tool and how it could help the UK meet its international air pollution targets. It also provides links to resources from the stakeholder workshop held in May 2020, including the workshop report.
What is ITAPA?
The aim of the ITAPA project is to develop a free, online tool based on the Dutch AERIUS product suite, to support UK risk assessments of air pollution effects on ecosystems and thereby facilitate meeting statutory reporting requirements.
Why is a UK integrated tool important?
An integrated tool addresses challenges with the current UK assessment approaches whilst bringing wider benefits, including:
A one-stop shop – National and local emission reductions would be registered in one place. This ensures both better estimates of pressure, and that mitigation is implemented in the right place.
Reduced risk of challenge – Through an agreed approach that accounts for the effects of all emission sources and source types in one tool.
Streamlined sustainable development – The data and approach to risk assessment would be more aligned, clear, and validated to make decision making easier and simpler. Emission reductions that require planning permission can occur more efficiently/rapidly.
Better protection for nature – Information about habitats, their vulnerability and the amount of emissions near these important places would be clearly and easily accessible.
Project Planning Workshops
Over 130 stakeholders attended the ITAPA Project Planning Workshops in May 2020. These meetings aimed to introduce the project, answer questions and gather feedback on the project. The workshop report describes each session and attendee responses. 
What is next for ITAPA?
JNCC is pursuing funding to realise the aims of ITAPA and do the groundwork for an integrated UK assessment tool. In the meantime, we are introducing the project to stakeholders and gathering interested experts or potential users to contribute their knowledge and advice.
Where can I learn more?
Where did ITAPA come from?
The ITAPA project was developed through learning from the Dutch Integrated Approach to Nitrogen (PAS – Programmatische Aaanpak Stikstof) and its support tool, AERIUS. JNCC in partnership with UK regulators and the country nature conservation bodies has:
explored the feasibility of implementing the AERIUS tool with UK data,
identified user needs for the assessment of possible environmental damage caused by air pollution (user stories1),
evaluated options for meeting those needs; and
developed a Business Case for the preferred option – an integrated tool for risk assessment.
1 A user story is a tool used in Agile software development to capture a description of a software feature from an end-user perspective. The user story describes the type of user, what they want and why. A user story helps to create a simplified description of a requirement.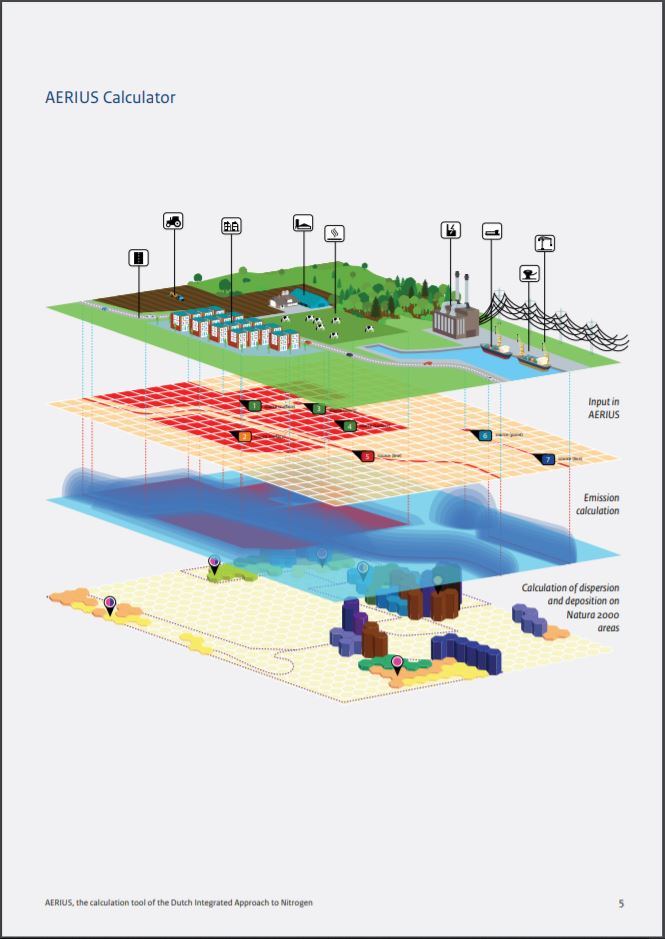 Figure 1: Schematic of the AERIUS Calculator which combines emissions across sectors, performs dispersion modelling, and calculates the concentration and deposition at ecosystems to support the Dutch Integrated Approach to Nitrogen (PAS). (Image from the AERIUS Calculator Flyer)
Learning from the Dutch PAS (Programmatische Aanpak Stikstof)
As with AERIUS, the ITAPA tool would record new emission source information, undertake dispersion modelling, and incorporate this with monitoring and modelling data to provide information for risk assessment. The system could also support issue of permits if a decision logic was able to be agreed.
AERIUS is comprised of several related modules – see AERIUS roadmap: the relationship between the AERIUS products. Some modules may look familiar such as AERIUS Calculator (like SCAIL but detailed modelling) and AERIUS Register (list of permissions/emission sources). Other modules, such as the AERIUS Monitor, provide opportunities for site managers and regulators to have dashboards for specific designated sites or areas. AERIUS has also been subject to significant technical review for its dispersion model results, user interface and emission factors.
The Netherlands have had good success with AERIUS and estimated that a €25 million saving was made in the first 18 months through the time saved by local authorities and regulators. The Dutch Government is encouraging the use of AERIUS by other countries. This is therefore a significant opportunity for knowledge and technology transfer; the software development of the AERIUS suite had cost an initial €8 million.
Pages in Integrating Tools for Air Pollution Assessment (ITAPA)
Related Categories