UK AERIUS
Welcome to the UK AERIUS Pilot Project. The UK AERIUS project will develop an online tool to support UK risk assessment of air pollution effects on ecosystems, statutory reporting requirements and also the potential to support the issue of permissions for individual plans or projects (for example, Environmental Permits and planning permission).
This initial phase will result in a pilot tool to validate against existing UK risk assessment approaches. The UK AERIUS project is working with UK experts through advisory groups to ensure that the tool is fit for purpose. A further phase is planned, subject to funding, that will address finalisation of the tool for external use.
Please get in touch if you want to join the advisory groups or watch the 5 minute video that explains how the AERIUS Calculator works and how permits are issued.
Project Team
JNCC is leading the UK AERIUS umbrella project currently funded by Defra and DAERA. The Inter-agency Air Pollution Group, Air Quality Technical Advisory Group and Air Pollution Information System Steering Group are also involved.
Contracts have been let to:
A consortium led by Wing and Ricardo to build a UK pilot version of the AERIUS Calculator tool that was developed as part of the Dutch Integrated Approach to Nitrogen; and
Air Pollution Services (APS) leading work with Keane & Gray to deliver an options appraisal to select a dispersion model appropriate for UK needs.
The Wing consortium includes AQC, CERC, Dat.mobility, Equil, H72, Interactive Affairs, Ricardo Energy & Environment, RIVM and Yogh.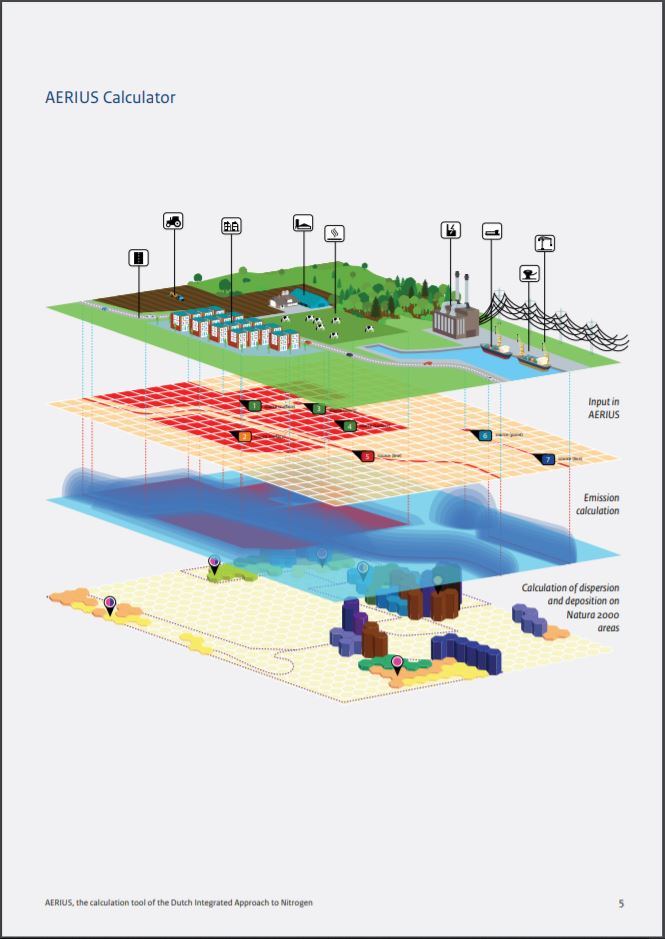 Figure 1: Schematic of the AERIUS Calculator which combines emissions across sectors, performs dispersion modelling, and calculates the concentration and deposition at ecosystems to support the Dutch Integrated Approach to Nitrogen (PAS). (Image from the AERIUS Calculator Flyer)
Learning from the Dutch PAS (Programmatische Aanpak Stikstof)
AERIUS is comprised of several related modules – see AERIUS roadmap: the relationship between the AERIUS products. Some modules may look familiar, such as AERIUS Calculator (like Simple Calculator for Atmospheric Impact Limits, SCAIL, but with detailed modelling) and AERIUS Register (a list of permissions/emission sources). UK AERIUS will record new emission source information, undertake dispersion modelling, and incorporate this with monitoring and modelling data to provide information for risk assessment. In order for the tool to issue decisions, a set of rules would need to be agreed. Discussions with an advisory group, conservation bodies and regulators to address this will form part of a later work package.